Beas river: Drowned engineering students are not the only tragedy
Demand-driven power generation leads to drastic hourly fluctuations in water levels in most rivers. At risk are the lives and livelihood of thousands and the riverine ecology.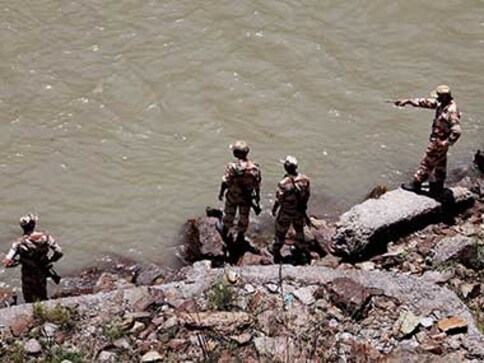 Three days after a sudden swell in the Beas washed away 24 students at Thalot in Himachal Pradesh, a couple of media reports have questioned the irresponsible release of waters from the Larji dam that caused the tragedy.
Pointing out that the Larji project "authorities had been releasing excess water in the Beas, almost without prior warning, since Friday", The Indian Express reported that the project suddenly reduced generation of power on Saturday evening, "presumably because demand had dipped".
Around 5:50 pm, warned by the national grid load dispatch centre via Shimla, the Larji authorities reduced power generation from 138 MW to 64 MW. Next, they decided to open the floodgates at the bottom of the project's reservoir which was threatening to flood the Chandigarh-Manali highway near Aut. At 6:15 pm, 50 cubic metres per second (cumecs) of water was released and within minutes tragedy hit 2.7km downstream.
Shocking, but there is nothing unusual, as media reports suggest, about these events. The very idea of demand-driven power generation necessitates sudden release of water and drastic hourly fluctuations in river flow. And it is happening daily across the country, routinely claiming lives and jeopardizing livelihoods tied to riverine agriculture, fishing and cattle-rearing. Only when the lives of engineering students are lost to this madness do the headline-obsessed media and the nation take note.
There is almost no data in the public domain on water level fluctuations from existing hydro-electricity projects. But official studies on a slew of proposed projects, mainly in the Northeast, provide a grim picture that is likely to be true for most hydel projects in north India as well. Even secondary evidence of manmade disasters, such as the Beas tragedy, is aplenty.
In 2007, Assam Chief Minister Tarun Gogoi knocked at the External Affairs ministry's door when release of water from Bhutan's Kurichhu dam, without any warning, led to a "catastrophic flood" that devastated lower Assam in just seven hours. It has not helped that the project was executed by our own NHPC. Sudden releases from the reservoir have been causing floods of varying intensity in western Assam every monsoon since.
Even when it does not lead to major flooding, drastic daily fluctuation in river flow caused by demand-driven supply of power can throw life completely off gear. The Lower Subansiri project on the Assam-Arunachal borders, for example, will hold back water for about 20 hours before releasing the load for maximum power generation during peak demand hours in the evening. That means downstream flows in winter will fluctuate from 6 cumecs to 2,560 cumecs. The river will trickle for 20 hours before swelling with monsoon-like surges for four hours, every day.
Subansiri is no exception. The 2,700 MW Lower Siang project in Arunachal Pradesh will cause a daily water level fluctuation of more than 13 feet in winter. As more than 100 proposed dams are to follow the same daily routine on the Brahmaputra and all its major tributaries, at stake is the entire local economy that rests on fishing, flood-recession agriculture, navigation and livestock rearing. And that is not to mention the destruction of the riverine and wetland ecology.
When the Ranganadi hydel project was commissioned in 2002, large quantities of water released in the river without any warning swept away many cattle, and a villager according to unconfirmed reports. Amid sustained protests, the North Eastern Electric Power Corporation issued a circular in June 2006, saying, "The gates of Ranganadi diversion dam may require opening from time to time… the corporation will not take any responsibility for any loss of life of human, pet animals and property damage…"
Timely and adequate warning before sudden releases of waters may save lives, but not livelihoods. Going by the experience of Ranganadi and Subansiri, flow fluctuation deals a death blow to fisheries, driftwood collection, sand and gravel mining and farming and grazing on riverine islands. Fish that breed in shallow waters or hibernate along the shorelines are particularly vulnerable.
During my visit last year, local fishermen near Gogamukh claimed that they spent twice as much time to catch barely half the quantity of fish they used to get before the dam came up. Sand miners complained that the Subansiri now brought more silt than sand.
And warning or not, the ecology is a silent and certain casualty. "These daily floods affect groundnesting birds, amphibians and even mammals — Bengal Floricans to tigers — that use the chaporis (riverine islands). Dolphins, on the other hand, will not survive the dry hours," said North Lakhimpur-based biologist Lakhi Prasad Hazarika who has documented the impact of flow fluctuation in the Subansiri.
Yet, no hydel project is required to assess its downstream impact beyond 10 km or the distance from dam to powerhouse. So, more than 150 projects are coming up in Arunachal Pradesh alone. The other Himalayan states of Sikkim and Himachal Pradesh are not lagging far behind. And the pledge to save the Ganga stands firm on the foundation of nearly 600 dams planned on the river and its tributaries.
"Every summer, I watched in frustration as nesting birds along the Ganga were swept way when ACs were switched on en masse in Delhi," rues a researcher who used to work with a government organization in Uttarakhand. "Do we care either about the people or agriculture or the birds and animals that live along these rivers? India's rivers sustained human civilizations and wildlife populations for thousands of years and in one century, we are all set to destroy it completely."
Tragedies like last year's floods in Uttarakhand or last week's drownings in Himachal Pradesh only offer a glimpse of the human cost that such policy madness will eventually extract. A customary probe has been ordered and three Larji officials have been suspended. But will the new government dare purge the disease rather than merely treat the symptoms? Implementing the recommendations made by the MoEF's expert body in its April 2014 report on Uttarakhand floods can be a good starting point.
jaymazoomdaar@gmail.com
Politics
According to exit polls, BJP will retain the majority in Gujarat while Congress will come a distant second and new entrant AAP will take the third position. In Himachal, most polls predicted a majority for BJP while one of them predicted a victory for Congress
Politics
Himachal Pradesh Exit Poll Results 2022: The polling was held for 68 constituency seats in Himachal Pradesh on Saturday, and the counting of votes is scheduled to be taken up on 8 December
India
The state had recorded a voter turnout of 75.6 percent in the Himachal Pradesh Assembly polls 2022. According to the Election Commission, Shimla reported the lowest voter turnout at 62.53 percent.