Bigg Boss 10, Episode 71, 26 December 2016: Housemates grill new 'villains' Bani and Gaurav
Personal equations of the housemates seem to be changing in the aftermath of the compatibility and spin the bottle task — the games they played with Salman Khan, Sonakshi Sinha and Manish Paul during Bigg Boss Weekend Ka Vaar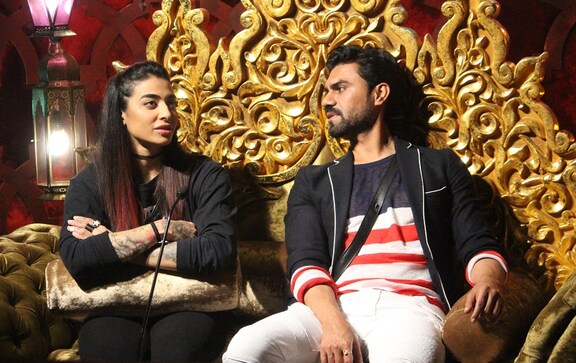 The personal equations of the housemates seem to be changing in the aftermath of the compatibility and spin the bottle task — the games they played with Salman Khan, Sonakshi Sinha and Manish Paul during the Weekend Ka Vaar. Also, with Priyanka having left, the contestants now seem to concentrate on their game with no distractions whatsoever, and it is getting tough for all.  In the morning,  Gaurav is seen clarifying his point to Mona and Lopa about not taking a stand during Lopa and Priyanka's ugly fight. He argues saying that he doesn't have any problem if somebody keeps talking and it is not necessary for him to reply to everything.
Later, Swami Om is seen massaging Mona's head while lamenting that he has got everything in life except love. Everybody watches this from the kitchen and Nitibha tells others that she would feel very uncomfortable if he does this to her.  Bani, too, gets inquisitive and peeps at them from the kitchen. Soon, Mona is seen confronting Manu and asking him to justify for saying that he was fed up of her, on National television.
It may be recalled that during the Weekend Ka Vaar, the show host had played a game of compatibility wherein Manu had said 'Yes' when the host had asked whether Manu was now fed up of his friendship with Mona. Manu responds by saying that she (Mona) has completely misunderstood him and need not take his comments to heart.  Manu adds that her boyfriend, Vikrant has been putting unnecessary allegations on them and it will be best in Mona's interest to get evicted from the house. While discussing the same issue with Nitibha, Mona says that Manu might have his own reasons for saying that he was fed up of her but saying it on National television was not a right thing to do. Nitibha gives her the advice to sort it out with Manu in order to avoid any further misunderstanding.
Next day, the housemates wake up to the song 'Om Shanti Om' and all the contestants are seen dancing merrily. Soon after, Bigg Boss gives the housemates a golden opportunity to win back their luxury budget (which they have been devoid of for the last two weeks) by being a part of a new task- 'Bani and Gaurav' show. According to the task, a volley of hard-hitting questions will be thrown at Bani and Gaurav while they are in the confession room of which they have to give honest and satisfactory answers.
While Gaurav and Bani are told that the questions will be coming from the live audience, they are oblivious to the fact that it is the housemates who will be asking them all the questions as a part of a secret task assigned to them.  If Bani and Gaurav fail to give befitting replies, the contestants will lose out on the luxury budget for the third consecutive week.
Seizing the opportunity, the housemates begin to identify questions that will probably leave Bani and Gaurav tongue-tied. Manveer takes the lead and asks Bani and Gaurav to cite a reason for completely avoiding Lopa and Priyanka's fight while being busy in their own game, and silently supporting Priyanka.
To this, Bani replies that initially, she was completely unaware how the fight erupted and what was the real reason behind their fight. And hence, she decided to stay away from the conflict. Bani also adds that Priyanka never made any hurtful comments about her or her family unlike Om and hence she was always cordial with her. Gaurav says that he did not wish to malign his image or touch a new low by getting involved in someone else's issue.
Lopa and other housemates who are watching them live through Jio TV express extreme displeasure and despise Bani and Gaurav for giving diplomatic answers. When Bani and Gaurav come out,  Bani asks everyone if they had "boycotted" Priyanka.  Nitibha explains that they did not specifically boycott but it was very obvious that they were against her and not talking to her just the way they did to Om when he had spoken ill about her (Bani's) mother.  Bani objects.  Bani and Gaurav are again called inside the confession room, and Bani is asked if she thinks she is the winner already. Bani says she does stand a chance. The housemates are seen rolling on floor with laughter and having fun at Gaurav and Bani's cost when they come up with the names of top five contestants. Bani counts herself,  Gaurav, Rohan, and probably a tie between Manveer, Manu and Lopa. And when the contestants, through Bigg Boss, ask them that who should be nominated this week, Gaurav mentions Nitibha and Manu while Bani takes names of Manu, Manveer (Mona is already nominated for this week along with Gaurav and Bani), and what she means is the M3 team.
Soon when Gaurav and Bani are out of the confession room, Bigg Boss lets the cat out of the bag and tells them the truth. Bigg Boss discloses that the questions belonged to the contestants and both look a bit perplexed as well as shocked. Majority of the contestants agree that Bani and Gaurav's answers were unsatisfactory. Rohan stands up for Bani and Gaurav and says that he was satisfied with the answers. This ensues an argument between Rohan and Manveer, as Manveer thinks Rohan is being two-faced because he, too, was seen rolling with laughter like others when Gaurav and Bani were answering their queries in the confession room. But Rohan says that out of nine, he was satisfied with seven answers given by Gaurav and Bani,  and tells off Manveer to not to interfere in his opinion and judgment. Further, Manveer has a heart to heart chat with Bani just the way they would intially, and Manveer asks her why she remained aloof and doesn't want anyone to know her. Bani says it was him who once rejected the idea of getting to know her.
As the day comes to a close, Nitibha has an argument with both, Manveer and Manu through which Nitibha's ungenerous behavior comes to the fore. Manu tells his friend Manveer that Nitibha was merely playing a game, and now that 10 weeks have gone by, she feels she stands a chance to win the show. Manveer gets upset and in that frustration he cleans the entire kitchen while Nitibha jokes about this to Mona. Towards the end, Manu and Mona are seen having a discussion about it. Manu says that how Nitibha is double-faced and she sweet talks with Manveer to get her work done, and that her every move is well-planned in order to fulfil her selfish desires.
Tomorrow the Bigg Boss house will be converted into 'Kashmir' with few 'Igloos' been made in the garden area. The captaincy task will require the contestants to get inside an 'igloo' whenever 'snow storms' attack them, and whoever is not able to enter an 'igloo' will be out of the race for captaincy.
Bigg Boss Season 10
Alia Bhatt interacts with Salman Khan, the Bigg Boss 10 contestants and reveals that Manu is her favourite contestant.
Bigg Boss Season 10
Additionally, after repeated violation of rules in the house, Bigg Boss has decided to cut down this week's luxury budget as a punishment.
Bigg Boss Season 10
As he leaves the Bigg Boss house, Navin Prakash reveals that Lopamudra and Monalisa have the highest chance of winning the show.