Yearning for captaincy has forced contestants to play their own games. While the challengers struggle to cycle through the night, the other contestants remain confused on the unpredictability of the captaincy task. With an even more muddled mind, the contestants wake up to 'Rang De Basanti' and looks like they want to forget their sorrows as all the contestants dance vigorously on the song. Tussles begin with breakfast as the housemates feel that the challengers are throwing tantrums under Bani's influence. Meanwhile, the third gong goes off and, with it, Lopamudra washes off Mona's chance at being named captain after discussing with her by emptying the test-tube of Mona's name.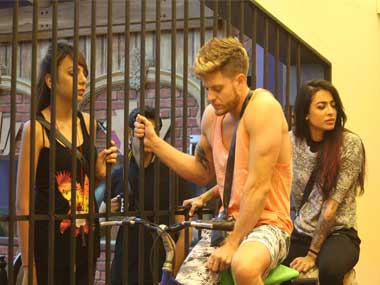 After peddling the entire night, the challengers are tired. They feel that they are being treated in unfair manner, and Bani, Jason, Elena and Rahul refuse to cycle until they get their breakfast. Looking exhausted, Jason looks into the camera and says, "I will break the cameras in the Bigg Boss house if we don't get food." When Lopa requests Priyanka Jagga to get them to cycle as she requires the gas to prepare breakfast, she definitely wasn't prepared for what happens next. Elena asks her (Lopa) to show what they have prepared first, for only then will they continue cycling. Lopa gets irritated with them and asks Priyanka to do the needful being the task's supervisor.
Further, one again, when Bani, Jason and Elena ask Priyanka to prepare certain things for breakfast, the housemates start questioning Priyanka's authenticity as the supervisor of the task.  Manu tells them that the only reason Elena and Jason are throwing these tantrums is because of Bani. And while the contestants argue it out,  Nitibha gets into another fight with Priyanka when asked to prepare a special dough for Bani's breakfast. Putting an end to their argument, Gaurav steps up and decides to make the batter instead. Trying to keep the contestants on her side for captaincy, Priyanka forgets some of her responsibilities as the sanchalak, and while the luxury budget task is deemed to be a success, Priyanka loses the opportunity to fight for captaincy.
Om Swami decides that now that his 'daughter' cannot be the captain, it must be him! While he tries to convince Sahil to keep his test tube safe, he also seeks support from the other probable contenders - Lopa and Gaurav. But, when the fourth gong rings, Sahil goes ahead and empties Swami's test tube while apologising to Swami and later gives him a hug, but Swami attributes Sahil's act as a result of fear.  With four more gongs to go, the politics and drama double up as Swami pegs his hopes on Manveer and decides to support him.
Efforts to become the new captain double as the contestants try to sway Nitibha and Mona's votes. While Mona stays strong and even gets into an argument with Manveer, Nitibha upsets Lopa by emptying her test tube. Meanwhile, the friendship between Manu, Mona and Manveer is under tremendous stress with Manveer and Mona getting into an argument over Mona not emptying her test tube containing Gaurav's name. Mona has Gaurav's test tube and Manveer is asking her to throw it. However, Mona is not willing to do so because Gaurav has Manu's test tube and Mona feels that if she threw Gaurav's test tube, he may in turn throw away Manu's test tube. Manu witnessing this intervenes on Mona's behalf  angering Manveer even further. Is this the end of the 3Ms friendship? And in all this chaos, Gaurav is very clear that either he himself or Manu can be the best captain of the house because of their leadership qualities. Manu, too, is of the same view. He's heard telling Mona, "Gaurav and I will use our brain whereas Manveer will use his strength, but for good captaincy, it is brain that works."
Priyanka, who is trying to single out Manu and get Manveer to be on her side would have surely been happy with the breaking of 3Ms friendship as she entered the house with the determination to do so.Meanwhile, after several failed attempts at getting Manu on her side, Priyanka tries to single him out by attacking his friendship with Manveer.  And it works! Thick friends Manu and Manveer argue over Manu's decision to not influence Mona into letting go of Gaurav's test tube. Further on, Swami and Priyanka instigate Manveer's ego. Mona Lisa breaks down in the bathroom saying that she wants to go home. Manu tells Manveer that everyone is making the best use of their disagreements. He requests Mona to come out and hugs her as soon as she comes out.  Manveer makes Mona  sit and talk to her calmly and Manu asks him to not allow anyone to interfere. Manu tells everyone that he cannot influence Mona  to empty Gaurav's test tube and it has to be her decision.
Priyanka plays the trump card by telling Manu  that he can't even be a good friend and further tries to drill in  Manveer's head  that Manu is not his true friend. Later, Manu tells Manveer that Priyanka is trying to cause a rift in their friendship and the trio sort out their differences. With the last leg of captaincy task remaining, after the seventh gong, looks like it's Gaurav and Manveer, who will finally fight for captaincy for which they will be seen competing for a task in painting, in tomorrow'sepisode.  Much more drama will unfold with a huge showdown between Swami and Lopa so much so that the latter won't hesitate in threatening to slap the self-proclaimed godman while Rohan will try to calm Lopa.
Updated Date: Dec 02, 2016 00:54 AM