Bigg Boss 10, episode 38, 23rd November 2016 Written Update: Lopamudra, Manu get a secret task
Here's the lowdown on everything that went down in episode 38 of Colors TV's Bigg Boss 10
The nominations have been declared and now with nervousness in the air, the contestants wake up to 'Sona Kitna Sona Hai'.
But the drama on episode 38 of Colors TV's Bigg Boss 10 is still to unfold:
As the morning progresses Manu tries to reason with Om Swami about his support towards Rohan, and tells him that his benefit lies in supporting him. Even before the luxury budget task is introduced, Bigg Boss assigns a secret task to Lopamudra and Manu, giving them a chance to compete for captaincy.
Soon enough, Bigg Boss introduces the BB Gold Mine luxury budget task wherein Rohan is a businessman and the owner of the gold mine, and the rest of the housemates are his workers or ghulams. These ghulams have been tasked with digging and finding gold for Rohan from the gold mine in the garden. On finding the gold, the ghulams have to collect it in a test tube and give it Rohan in his office, who will in turn weigh it and put it in his safe. If Rohan is successful as a businessman, he will continue as a captain for another week. It's like giving votes to Rohan, and naturally, not everybody would want him to continue as captain and hence won't cooperate in the task. And before the task begins, Bani warns Rohan to be careful because she has overheard Manu and Manveer making plans to sabotage the task.
While the contestants strive hard to find gold for Rohan, Lopa and Manu strategise for the robbery, the secret task given to them by Bigg Boss which will make one of them the captain of the house, replacing Rohan. But Lopa is also trying to be careful that the robbery does not affect her friendship with Rohan. However, her strange behaviour makes Rohan suspicious. Rohan doubts Lopa's actions and doesn't allow her  to dig for gold. Upset by Rohan's behaviour, Lopa gets into an argument with him.
On the other hand, Nitibha tells Rohan that Lopa and Manu might have been assigned a secret task because Bigg Boss had called them to the confession room in the morning. Rohan confronts Lopa, but she changes the topic. "Even Gaurav and Rahul had gone into the confession room but Rohan has given the tag of secret agent only to me; he doesn't want me to perform but instead, use the opportunity to punish me," says Lopa.
Meanwhile, Om Swami enjoys digging for gold so much that he refuses to leave the mine. Rohan warns him that if he doesn't come out, he will be punished. Swami also irks Nitibha because of his behaviour leading to a major showdown so much so that Swami ends up telling her that she is nominated so she better not threaten him. Nitibha counters saying that he should threaten his 10,000 imaginary followers and not her. She urges him to apologise. Nitibha brings up the fact that Swami inappropriately touched Sunny Leone. She also says that Salman Khan did a good job by bringing up how he disrespects women. Swami threatens Nitibha again, and asks her to keep in mind what happened the other time someone was disrespectful to him. Nitibha calls Om 'badtameez'. Now, Nitibha and Rohan get into an argument.  Nitibha threatens to throw away all the gold. Rahul Dev comes to school Swami and tells him to speak properly to women.
Swami continues doing the task despite Rohan's insistence that he should quit. Manu tries to get Swami on his team in the secret task. He tells him everything about the secret task and further Lopa and Manu discuss the secret task in their  dressing room. Lopa says that she is feeling bad about lying and stealing. Rohan ties up the locker which has the dug out gold, for protection. Manveer tells Bigg Boss through the camera that he is irritated with for Lopa constantly placing friendship before the secret task and that she wasn't the right candidate for this task.
"But I will try my level best though the vault is locked," declares Manu. Lopa finally decides to steal the gold from the vault while Rohan was sleeping, but was unsuccessful in doing so because Rohan is not a sound sleeper and he wakes up wondering what she was doing in his room.  She gives an excuse of not getting sleep and asks Rohan if he wanted tea or coffee. However, Lopa leaves his room and tells Manu who's waiting outside that it's a difficult task.
But the task is not yet over and it will continue but tomorrow one will see a huge showdown between Rahul Dev and Swami, who is heard telling Rahul, "If you have the guts, come and hit me." Well, looks like Rahul has taken Salman's advice of not entertaining enough, too seriously.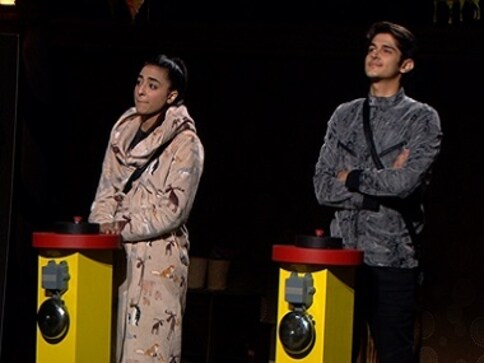 Bigg Boss Season 10
As colors Tv's Bigg Boss 10 races towards its grand finale this weekend, one contestant will not be making it to the final four — Rohan Mehra, who was ousted in a mid-week eviction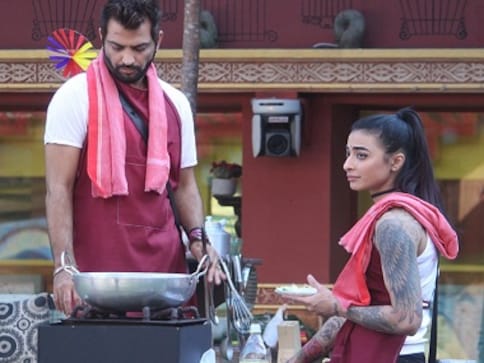 Bigg Boss Season 10
Manu Punjabi, Manveer Gurjar, Ban J, Rohan Mehra and Lopamudra Raut mark Day 100 in Colors TV's Bigg Boss 10 house