Tesla Model 3 launched in the US at $35,000, full self-driving capabilities are an optional extra
At an event organised at Tesla's factory in Fremont, California where 30 lucky Tesla employees got to collect the first Model 3 vehicles.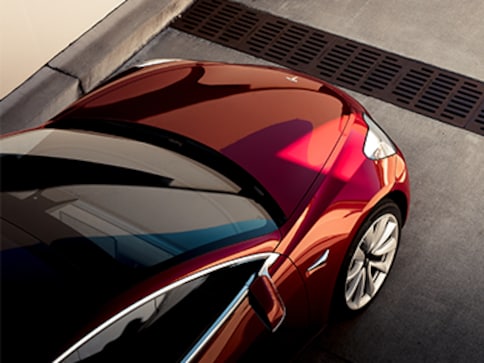 At a launch event organised at Tesla's factory in Fremont, California, 30 lucky Tesla employees got to collect the first Model 3 vehicles.
Unlike the Teslas before it, the Model 3 is a car for the people. It's not a fancy sports car and nor is it a luxury saloon. At $35,000 for the base model, the Model 3 is significantly cheaper than the Model S or the Model X, both of which were priced in the vicinity of $80,000 and $140,000 respectively.
US media were invited for a tour of the factory and to test drive the Model 3 for themselves. In general, they report that the car feels just as responsive as previous Tesla's, but add that the interiors are more "spartan". ArsTechnica describes the interior as having only a single screen in the dashboard and no separate heads-up display or instrument cluster. The Verge describes the car as "an exercise in minimalism", a car that "wasn't bland, nor sterile, nor cheap feeling."
Clearly, fears that a drop in price would result in a drop in quality are unfounded.
The minimalism described by The Verge refers primarily to the interior design. The air vents are now invisible, the lack of any instrument cluster means that the dash is clean, there is also no key to enter the car. The entire car can be controlled via a smartphone, which, in this day and age, is something you'll have on you at all times. If you're worried about valet parking, there's apparently a separate credit card-style key for that purpose.
As ArsTechnica points out, the car is good, but the real challenge is in getting it to production at scale. A car for the people must be available to the people, after all.
Tesla currently makes about 50,000 Model S and X cars a year. With the Model 3, Elon Musk hopes to produce 250,000 cars a year, later expanding production to 500,000 cars a year.
The base-model of the car will retail for $35,000, but there are a number of optional extras that can add an additional $20,500 to the price tag.
The standard model has a range of 220 miles, a top speed of 130 mph and an acceleration from 0-60 mph of 5.6 seconds. It includes a 15-inch touchscreen display, a dual zone climate control system, onboard maps and navigation, Wi-Fi and LTE connectivity, Bluetooth hands-free calling, reversing camera, split folding rear seats, one-touch power windows and more.
The Autopilot hardware, which consists of eight cameras, forward radar and 12 ultrasonic sensors is included. On the base model, active safety technologies like collision avoidance and automatic emergency braking will be enabled by default.
An additional $5,000 for an 'Enhanced Autopilot' package gets you speed matching in traffic, lane-assist, automatic lane changing and self-parking. Add another $3,000 and you'll get full self-driving capability.
A $5,000 'Premium Upgrades Package' adds heated seating, better interior materials, two rear USB ports, a premium sound system, LED fog lamps and more.
Throw in $9,000 and you can get a long-range battery. This battery not only boosts your range to 310 miles, it also supports faster charging, better acceleration and a higher top speed.
Lastly, $1,500 will get you a set of 19-inch Sport wheels to replace the 18-inch Aero wheels that come as standard.
The vehicle will ship to the public "this fall". It is currently shipping to Tesla employees.
World
Elon Musk had announced that by the end of March, Twitter's source code would be made open source for more transparency. However, when some portions of Twitter's source code were leaked online before it was made open source, Twitter got it taken down.
World
Musk said in December that Twitter is on track to be 'roughly cash flow break-even' in 2023 as top advertisers slashed their spending on the social media platform after the billionaire's takeover
World
LockBit, a prolific ransomware group claims to have hacked into SpaceX and have stolen 3,000 SpaceX rocket blueprints and is threatening to sell them to Elon Musk's competitors, if their demands aren't met.