India
A fourth successive drought in Bundelkhand region in the last five years has shattered the farmers of this backward region, triggering a mass migration.
Politics
Setting the tone for the campaign in Madhya Pradesh, Congress' Kamal Nath played manjiras, recited bhajans to counter Shivraj Singh Chouhan's strategy.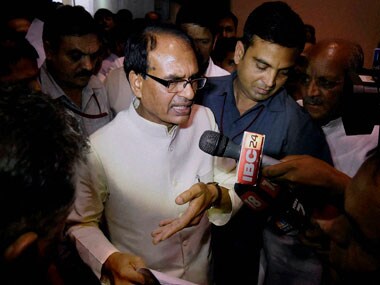 Politics
Madhya Pradesh chief minister Shivraj Singh Chouhan, battling 14 years of anti-incumbency, an unfriendly party leadership and growing dissatisfaction over his tenure within the BJP, is still confident about his chances
Politics
Politics in Madhya Pradesh, it seems, may revolve around river Narmada before the Assembly polls due in the state in November this year. Known as the lifeline of the state, Narmada has been in the spotlight since Chief Minister Shivraj Singh Chouhan undertook a six -month long Narmada Seva Yatra from December 2016 to May last year.