In A Man Named Doll, Jonathan Ames finds his Holy Grail and the culmination of a courtship with crime writing
A Man Named Doll feels like the logical successor to the author's comedic autobiographical writing, in which, after all, he cast himself as a lone figure roaming in the naked city, a broken romantic embroiled in adventures that often veered toward the illicit.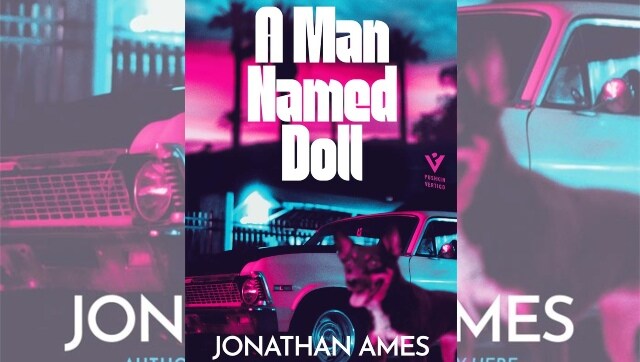 It was over lunch in 2013 that literary agent Eric Simonoff asked Jonathan Ames, "So what do you want to do with your writing career?"
Ames replied, "Have you read Richard Stark?"
Simonoff confessed that he had not. Moreover, he had no idea who Richard Stark was.
"Well," Ames explained to his old friend and new agent, "I'd like to be like Richard Stark."
Richard Stark is one of the pseudonyms for prolific writer Donald Westlake, who, under that name, published over 20 novels centered on a character named Parker. The Parker series, with titles like The Hunter, Butcher's Moon and Nobody Runs Forever, features a classic antihero: a no-nonsense criminal who speaks tersely and acts decisively, most often with his fists.
Ames, in his 20-year writing career, had written perhaps most frequently about a character named "Jonathan Ames". Before he departed New York for a television job in Los Angeles in 2014, he was well known in his hometown as an essayist, novelist, performer and bon vivant. "Jonathan Ames" turned up as the lead in his comedic confessional essays, collected in books like What's Not to Love? The Adventures of a Mildly Perverted Young Writer, and in the short story Bored to Death, which in 2009 became an HBO comedy series starring Jason Schwartzman. On that show, Schwartzman is a neurotic Brooklyn writer who dreams of writing pulp novels and who, inspired by his love of Raymond Chandler and Dashiell Hammett, decides to advertise his services as an amateur private detective.
"We were shooting the first season and we were coming up with the graphics for the opening, which showed a pulp novel called Bored to Death opening up and showing the actual words of my story," Ames, 57, said last month over Zoom from his home in Los Angeles. "I said, 'Oh, my God, this is so cool. I wish I was writing books with covers like that.' And one of the writers said to me, 'Jonathan, you have a TV show now.'"
The implication, of course, being that whatever rung on the literary ladder that involves writing pulp fiction, Ames, a newly minted HBO showrunner, had long since climbed past it.
"But he picked up on something," said Ames. "The fact that, even then, my Holy Grail was to be writing crime novels."
Now Ames has captured his personal Holy Grail, in the form of a detective novel titled A Man Named Doll. Published by Mulholland Books, it is the first in a proposed series (there's already a Netflix film in the works) about a Los Angeles-based ex-cop and private detective named Happy Doll. (No spoilers, but suffice to say that the circumstances leading to his unusual first name are not, themselves, happy.)
Crime readers may notice some superficial similarities between Doll and the kind of fabled gumshoes that Ames has long been enamored of — figures like Chandler's Philip Marlowe or Ross Macdonald's Lew Archer, or quick-fisted pulp avatars like Parker or Lee Child's Jack Reacher. But it quickly becomes clear that Happy owes more to the rumpled Marlowe played by Elliott Gould in Robert Altman's The Long Goodbye than to any hard-boiled toughs inhabited by Humphrey Bogart.
Doll, for example, may be the first private detective in LA who's in Freudian analysis five days a week. He is certainly the first one to describe his relationship with his beloved dog as "disturbed," saying, "We're like two old-fashioned closeted bachelors who cohabitate and don't think the rest of the world knows we're lovers." Doll is less Jack Reacher than, well, Jonathan Ames.
"He's a neurotic Reacher with the soul of a poet," said Joshua Kendall, editorial director of Mulholland. When he received A Man Named Doll, he said, he recognised it as perfect for Mulholland, an imprint that specialises in both contemporary and classic genre fiction. But he also realised that "one of the great pleasures of the book is seeing the Ames pop out."
Of Ames' detour toward crime writing, Simonoff, his literary agent, said, "He was clearly called in this direction. But the novel also exhibits the charm and quirkiness of classic Jonathan Ames. There's a sweetness to it that isn't there in the typical Parker novel." (Since their lunch, Simonoff has happily brushed up on his Westlake.)
Ames has spent most of his decades-long literary career bed-hopping promiscuously between forms and mediums: He's been genre-fluid but pulp-curious.
Bored to Death was a warmly satirical take on hard-boiled themes, set against a hipster Brooklyn backdrop. And on assignment from the online publication Byliner, Ames wrote a novella-length story, You Were Never Really Here, which was adapted into a dark and violent film directed by Lynne Ramsay and starring Joaquin Phoenix that premiered at Cannes in 2017.
With that story, Ames said, "I did have this goal of not being funny at all. I just wanted to write something really lean and dark." He loved the challenge of creating "an express train of a plot, where you can't put it down."
There is a well-worn piece of writing advice, often traced to Aristotle, that contends that the perfect ending of any story should be surprising yet inevitable, and the fact that Ames has written a detective novel seems exactly that: surprising yet inevitable.
Other authors have veered unexpectedly into crime writing, either as a commercial diversion or out of love for the form. Graham Greene famously classified certain of his novels as "entertainments." (Ames said, "I often liked the entertainments best of all.") Denis Johnson wrote the pulp homage Nobody Move, and Booker Prize winner John Banville wrote crime fiction as Benjamin Black.
Yet for Ames, A Man Named Doll is not a dalliance with detective fiction so much as the consummation of a decades-long courtship.
"At a certain point in my life, starting back in the '80s, I began to read almost entirely crime fiction," he said. "You're studying the form — you're kind of doing an apprenticeship."
A Man Named Doll feels both like the culmination of that apprenticeship and the logical successor to his comedic autobiographical writing, in which, after all, he cast himself as a lone figure roaming in the naked city, a broken romantic embroiled in adventures that often veered toward the illicit.
Ames' former teacher, Joyce Carol Oates, once gave a quote to The Paris Review that has stuck with him. Oates, he recalled, had said that, in Ulysses, James Joyce had used the structure of the Odyssey as "his bridge to get his soldiers across."
For him, pulp has become that bridge, he said.
"The soldiers being my wish as a writer to observe, to describe, to form sentences, to entertain and to share my fears, my hopes, my, you know, despair — and maybe some of my courage. It's important," Ames added, "to try and pass on courage to the reader."
Adam Sternbergh c.2021 The New York Times Company
Sports
In the final match, which was destined to become part of hockey folklore, India went on the attack. Captain KD Singh 'Babu' and Vice-Captain Balbir Singh were like men possessed.
Arts & Culture
The troop totalled 627, and included four combat surgeons, two anaesthesiologists and one dentist.
World
A change in routine activities and decline in opportunities for crime is the most plausible explanation for the fall in offences recorded, at least in the short term.