FirstAct: Watch Star Light, a play about friendship, love, and the miracles that human relationships often are
Star Light is a story of love and friendship blossoming in the warmth of Christmas.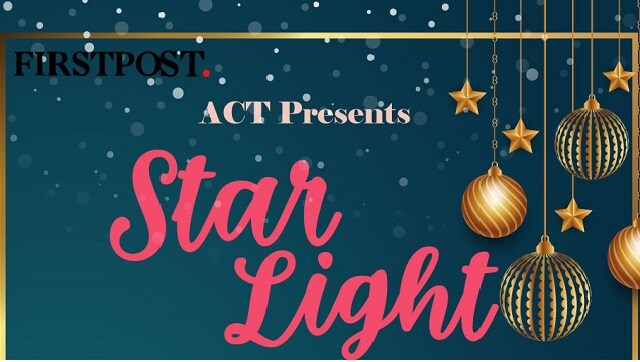 Editor's note: With FirstAct, Firstpost is collaborating with theatre and improv artists from all over India, who'll perform short pieces or readings over a Zoom video-conference call.
After FirstAct's debut show with Improv Comedy Bangalore, followed by Drama Queen's For Tomorrow, Theatre Jil Jil Ramamani's Haiku in a Bun, OGLAM's Abey Yaar!, Chanakya Vyas' Leftovers, MD Pallavi's Salt and Akhoka Theatre's Between the Banks, we are all set to present our next — Star Light.
***
A story of friendship and love that blooms in the warmth of Christmas. a story of miracles that human relationships often are. Star Light is the story of Aarya and Vinayak, two seemingly opposite individuals who evolve from being strangers to friends, to maybe even something more. But when the practicalities of life intervene with the aspirations of these dreamers, their friendship is put to the test.
Will friendship emerge victorious and open their lives to something more, or will their relationship succumb to the bleakness of circumstances?  Fraught with humour, tension, love and drama, we bring to you Star Light.
Also read on Firstpost — FirstAct: In 'Star Light', a story of love and friendship blossoming in the joy and warmth of Christmas
— All Rights Reserved
also read
Explainers
The Sarus crane, taken away from an Amethi farmer, is slowly adapting to the ways of the wild in Kanpur Zoo. The zoo officials have so far attained 80 per cent success in helping the bird adapt to a suitable diet that includes raw grains, insects, crustaceans, spinach, water hyacinth
Entertainment
Prime Video today dropped the lyrical video of 'Kukunnu' from Kaadhal Enbadhu Kannula Heart Irukkura Emoji episode in Modern Love Chennai. The catch melody, sung by Vagu Mazan & Ramya Nambeesan and lyrics written by Yuga Bharathi
Opinion
On account of the bold and independent policies, both domestic and foreign, pursued by Prime Minister Narendra Modi's government, India has been successful in dealing relatively effectively with the challenges posed by different circumstances