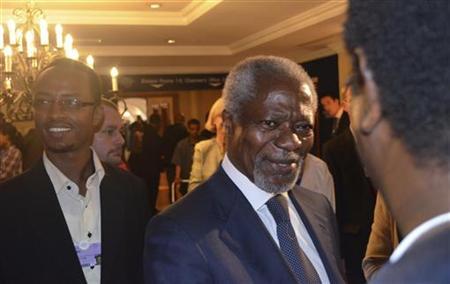 UNITED NATIONS (Reuters) - U.N.-Arab League mediator Kofi Annan is urging Syria's government to accept U.N. conditions for expanding the distribution of humanitarian aid to roughly 1 million Syrians in need of assistance, the United Nations said on Tuesday.
The aid is necessary because of the desperate situation many Syrians find themselves in after 14 months of a Syrian government assault on an opposition that is increasingly determined to oust President Bashar al-Assad.
"The joint special envoy (Annan) remains extremely concerned about the plight of 1 million Syrians in need of humanitarian assistance," U.N. spokesman Martin Nesirky told reporters.
"He strongly urges the government to accept the conditions for a scaling up of the humanitarian assistance without further delay," he said.
"He underlines the need for a speedy agreement consistent with the government's commitment to allowing unimpeded access to and provision of assistance to Syrians in need," Nesirky said.
The U.N. Office for the Coordination of Humanitarian Affairs (OCHA) and Syria have been negotiating since March on a plan for the distribution of aid, but U.N. envoys told Reuters the government and the U.N. agency are deadlocked on the issue of who would be in charge.
OCHA chief Valerie Amos told reporters in New York on Tuesday that the process of negotiating with the Syrian government should be moving more quickly. She said the number of people who need humanitarian aid was likely higher than 1 million now.
"It's been a very slow process," she said. "The government have now agreed with our assessment of the numbers and in what needs to be done. What we now need to negotiate is the how."
Amos suggested one of the main sticking points in the talks is that Damascus wants to manage the delivery of all humanitarian aid through the Syrian Arab Red Crescent.
U.N. officials and diplomats say the U.N. aid office would be willing to compromise by managing aid distribution jointly with the Syrian Arab Red Crescent, but it is determined to maintain a measure of control over the delivery of assistance.
IMPARTIAL AID DELIVERY
The officials and diplomats said aid distribution could be hijacked by those in the Syrian government who would like to use it as a means of getting access to opposition strongholds currently off-limits to government forces or for punishing rebel-held areas by denying them access to humanitarian aid.
"It's important that any aid is delivered impartially," Amos said. "It needs to go to people who are in opposition-held areas as well as ... to people who are in government-held areas. And monitoring is very important for us too, so that we know that the aid is going to the people who most need it."
She added that the U.N. does not want Syrian aid delivery mechanisms to be "overly bureaucratic." She said that her office was pushing to boost U.N. aid capacity in Syria, as well as the capacity of non-U.N. international aid agencies.
Amos has been trying to keep the issue of aid distribution separate from discussions on other aspects of Annan's peace plan, which is aimed at ending the fighting, deploying up to 300 unarmed military observers to monitor a ceasefire that has yet to take hold, and launching talks on a "political transition."
Amos added that the appearance 189 monitors has brought a slight decrease in the violence but has not ended the fighting.
"We are all very conscious that the ceasefire has not held," she said. "But it is clear that having the monitors has resulted in some easing of the violence in the conflict zones in some parts of the country."
(Editing by Eric Beech)
Published Date: May 16, 2012 04:00 AM | Updated Date: May 16, 2012 04:00 AM