What do India possess that Sri Lanka don't?
Well, India have a settled unit and they have different plans for different situations, more importantly at crucial junctures of the match, which Sri Lanka don't. This was the first time that India defeated the Lions by an innings in a Test in Sri Lanka.
Sri Lanka went in with three spinners after losing the toss and their spinners remained quiescent during India's first innings, especially Rangana Herath, which helped India post a mammoth total on the board once again. "At the moment we have in our bowling line-up two experienced bowlers, Herath and Dilruwan Perera. We had a wicket that turned and we expected them to come into the scene. But we couldn't execute those plans in this game," Sri Lanka captain Dinesh Chandimal admitted after the match.
In the second Test, KL Rahul substantiated that he is a perennial fifty-plus scorer. Cheteshwar Pujara again examined bowlers' patience. Rahane's good form outside India continued. Wriddhiman Saha showed that he is a match-winner with his gloves and the maverick Ravichandran Ashwin- Ravindra Jadeja pair hunted in pair to demolish the opponent.
While the batting and bowling impressed, India's biggest concern was their slip catching. They need to improve that aspect as it is crucial in maintaining their dominance abroad.
"Yeah, that is certainly an area that we want to keep improving in. I would say that on a pitch like that where it is getting slower, sometimes you end up standing ahead because you want to pick up catches from the front," Kohli said when asked about the slip catching woes. "And then when one big shot is played and the ball is bowled quick, then you suddenly look like you are not in position. It is a very tricky thing to figure out. Maybe we will have to figure out a certain distance that we just stay in, no matter if the ball falls in front of us or something like that. Specialists are always nice. KL [Rahul] and Pujara are our close-in specialists. Pujara does gully for spinners as well but then he takes on short-leg and KL hasn't done as much of that practice as Pujara does. So it becomes tricky. I try to chip in but when I drop catches, it looks bad. We will have to figure out who stands in those positions consistently and keep those guys there for longer periods. I think that is the solution going forward," the Indian captain added.
Sri Lanka's future looks irresolute unless and until they breathe some life with further improvement in the final Test. They need to look up to players like Dimuth Karunaratne and Kusal Mendis who had gumption and showed tranquility under pressure while following on by scoring a century.
Here are some of the interesting numbers from second Test played at Colombo (SSC).
Cheteshwar Pujara became the joint third fastest Indian to score 4000 runs in Tests.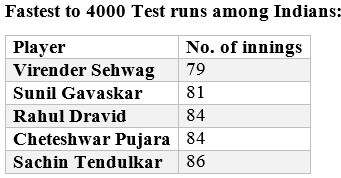 The Saurashtra batsman also became the seventh Indian player to score a century in his 50th Test.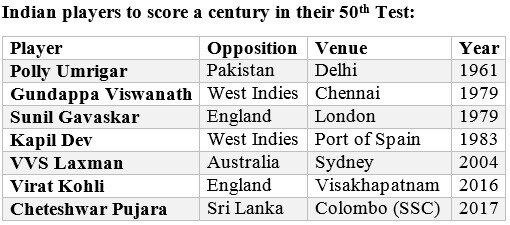 Ashwin took 51 Tests to achieve the double of 2000 runs and 250 wickets in Tests which is the fewest in Tests.

Jadeja achieved the milestone of becoming the fastest left-arm bowler to take 150 wickets in Tests.

Jadeja is also the second-fastest Indian player to achieve the feat of taking 150 wickets in Tests.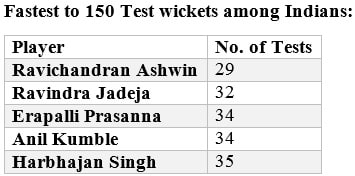 The Saurashtra all-rounder is the second fastest player to achieve the double of 1000 runs and 150 wickets – in just 32 Tests.

Ashwin is now in second place in the list of Indian players with most five-wicket hauls in Test cricket.

India's first innings lead of 439 runs in the second Test was their third largest in Test cricket.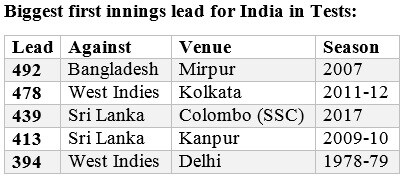 Dimuth Karunaratne became the first Sri Lankan player to score two centuries while following on in Tests. His stand of 191 with Kusal Mendis is now the highest for the Lions while following on.

Ashwin became the first spinner to take 100-plus wickets while opening the bowling in Tests.

The victory over Sri Lanka was India's eighth consecutive Test series win. Only Australia have more now.
India became the first team to win three Tests at Colombo (SSC). Moreover, no visiting team has now won more matches than India in Sri Lanka.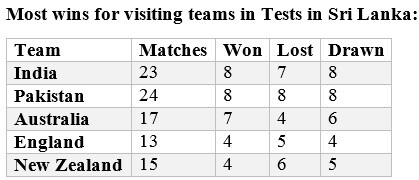 Kohli has now won six overseas Tests which is the joint second most by an Indian captain.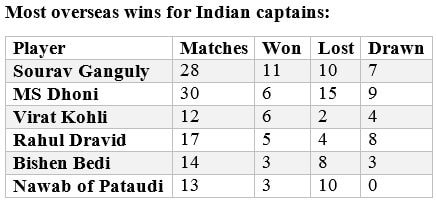 More stats:
- India have scored six 600-plus totals under the captaincy of Kohli which is the most by a team under a captain in Tests till day.
- Kohli's four wins as a captain in Sri Lanka is the most by any visiting captain in Sri Lanka in Tests.
- Rahane became the second fastest Indian fielder to take 50 catches in Test cricket. He achieved the feat in 39 Tests while Eknath Solkar, who is the fastest, achieved the milestone in just 26 Tests.
- This was the first time when two Indian players (Ashwin and Jadeja) scored a fifty and took a five-wicket haul in a same Test match. Overall, this was the third instance in Test cricket.
- This was the first time when two Sri Lankan batsmen (Karunaratne and Mendis) scored a century while following on in a Test match.
- Lokesh Rahul has now scored six consecutive fifty-plus scores in Test cricket which is the joint most by an Indian player in Tests. Gundappa Viswanath and Rahul Dravid had also scored six consecutive fifty-plus scores in Tests.
Published Date: Aug 07, 2017 17:45 PM | Updated Date: Aug 07, 2017 17:57 PM