The stock markets were in a jubilant mood today as the Sensex galloped to two-month highs. The BSE Sensex rose 2.6 percent fuelled by a global rally in risk assets after European leaders agreed on decisive action to lower the borrowing costs of Italy and Spain and create a single supervisory body for European banks.
The sharp 439 points gain in the Sensex was the highest gain reported since 20 December 2011, when the markets gained 510 points. It is also the highest closing gain this year so far. In fact for the month of June, the Sensex is up a healthy 7.5 percent. The 30-share Sensex pack has also created a lot of investors wealth as its market capitalisation rose by an astounding Rs 1.9 lakh crore to Rs 29.28 lakh crore.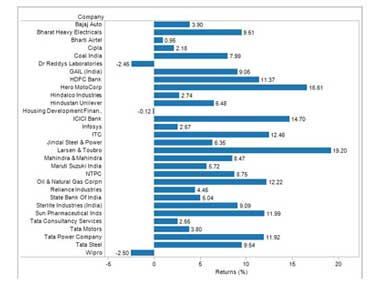 L&T is the top gainer this month as the stock has risen by 19.2 percent to Rs 1,397 per share followed by Hero MotoCorp (16.6 percent), ICICI Bank (14.7 percent), Sterlite Industries (12 percent) (see chart for details).
Overall, the markets could be seen moving up. According to Jonathan Garner of Morgan Stanley, the emerging markets are exceptionally cheap and he expects 20-40 percent returns on these valuations from the Indian market in the next six months.
"Markets trends would be broadly determined by the ongoing developments in the eurozone debt crisis, domestic inflation and government reforms. With EU leaders intent on not allowing major defaults or bankruptcies, focus will likely shift to inflation and government reforms. We remain optimistic on the reforms front with the PM now handling the finance portfolio also. Reforms might also allow RBI more flexibility in determining its fiscal policy", said Dipen Shah, Head of Fundamental Research, Kotak Securities.
Published Date: Jun 29, 2012 17:35 PM | Updated Date: Dec 20, 2014 18:25 PM