3:30 pm Markets have snapped the 4 day winning streak as the Sensex closed at 17372, down 131 points while the Nifty closed lower at 5291, down 41 points.
While the markets were trading more or less flat during the day, Nifty crashed by more than 80 points in the afternoon due to a trading mistake. Nifty futures dropped 1.5 percent, dragging down spot indexes, which several dealers attributed to a trading mistake.
A National Stock Exchange official told Reuters the exchange was looking into the matter, though they would not confirm whether the sudden drop in the futures index was due to a trading mistake.
Among the 30-share Sensex scrips, 21 scrips ended in the red while 9 gained. The top losers include Tata Power (-2.47 percent), Hindalco (-2.46 percent), ONGC (-2.24 percent), BHEL (-2.05 percent) while the gainers were M&M (2.89 percent), Tata Steel (0.73 percent).
Sensex falls 267 pts; Hindalco, BHEL biggest losers
3:00 pm In a sudden movement Sensex crashed by almost 265 points while the Nifty fell by almost 90 points. While no reason could be found for that, there were reports about a freak trade related to Infy, Nifty Futures, as per CNBC TV 18.
However, markets have started recovering from their lows. The overall breath continues to be negative as almost 1000 stocks are in the decline mode, 467 have advanced and 73 were the same. The Sensex is now trading lower by 175 points to 17329 while the Nifty is down by 59 points to 5273.
Among the Sensex scrips, 25 are in the red followed by Tata Power (-2.9 percent), Hindalco Inds (-2.58 percent), Jindal Steel (-2.34 percent), BHEL (-2.5 percent).
Banking stocks have also been under pressure. ICICI Bank (-2 percent), Axis Bank (-1.75 percent), SBI (-0.8 percent) were some of the scrips that fell sharply . Most of them fell on fears that their margins may be hit after some banks cut their base rate.
2:00 pm Markets are off their days high as the Sensex is now trading lower by 66 points to 17437 while the Nifty is down 23 points to 5308, jist holding the 5300 level.
Market breadth has turned negative with 818 stocks have declined, 636 are positive while 83 are at the same level. Of the 13 sectoral BSE indices, seven are in the red with Capital Goods taking the lead with a 1.22 percent fall. FMCG and Teck are up marginally by 0.56 percent and 0.4 percent.
Among the 30-share Sensex pack, 19 have fallen while 11 are in the green. Top gainers are M&M (2.65 percent), Tata Steel (0.75 percent), Wipro (0.85 percent). Losers include Hindalco Inds (-2.38 percent), BHEL (-2 percent), Tata Power (-1.9 percent).
Sundaram Clayton gained almost 3 percent to Rs 165.50 after net profit rose 46% to Rs 22.93 crore in March 2012 .
Sensex flat ahead of RIL's results; M&M gains 2%
State Bank of Bikaner & Jaipur gains 3 percent after reporting better then expected profit numbers.
12:30 Markets are trading flat ahead of Reliance Industries quarterly earnings due out later today. The stock is down 1.2 percent to Rs 732.7 per share. Cairn India is trading flat at Rs 351 per share.
European stock markets opened mostly lower with investors expected to keep an eye on the first day of the International Monetary Fund and World Bank, annual spring meetings
Sensex is up marginally by 6.4 points while the Nifty is flat at 5331. UBS has downgraded Indian shares to "neutral" from "overweight," saying China is the better bet. The investment bank said India was unlikely to see big downside surprises on inflation, and hence no aggressive rate cuts, according to Reuters.
ACC and Ambuja are some of the top losers post their results.
Among the 30-share Sensex pack, 14 stocks are in the green led by M&M (2 percent), Bharti Airtel (1.25 percent), Maruti Suzuki (1.18 percent). Losers include the likes of BHEL (-1.5 percent), RIL (-1.2 percent), Hind Unilever (-0.87 percent).
RIL falls 1.5%, Cairn flat ahead of results
11:30 am No major change in the markets as the Sensex is down 22 points to 17480 while the Nifty is down 9 points to 5323. Among NSE scrips, 677 stocks have advanced, 690 have declined while 88 are at the same level. All eyes will be on the results of Cairn India (0.34 percent) and Reliance Inds (-1.19 percent).
Among the 30-share Sensex pack, M&M is up 2 percent followed by Maruti Suzuki (1.16 percent). Coal India is the biggest loser with a fall of 1.25 percent.
Rupee falls below 52, MRPL slumps on water shortage
10:30 am The rupee has fallen below 52 against the dollar to a new 3-month low. USD/INR was last trading at 52.09/10 to the dollar after hitting a new three-month low of 52.20 in opening trade. It closed at 52.14/15 on Thursday, according to Reuters.
MRPL has fallen by almost 5 percent to Rs 62.75 per share. The company has completely shutdown its 15 million tons a year refinery following shortage of water.
Syndicate Bank joins the list of banks to cut interest rates after it has cut base rate by 25 bps to 10.5 percent from 10.75 percent earlier. Stock is up marginally 0.45 percent.
Future Capital is up 3.5 percent stake after they said that they are in talks to sell majority stake and are in talks with private equity investors.
IPCA labs is up 1.34 percent after Bank of America Merril Lynch has upgraded the stock to 405 per share from Rs 375 earlier.
KEC Intl gained 2.8 percent after it informed BSE that it has bagged an order worth Rs 1,416 crores.
Essar Shipping continues its upward streak as the stock has gained another 3.3 percent after it has bagged a contract worth $ 25 million from New Sino Oil Company to drill five new wells in Brunei.
Astra Microwave is up 6 percent after the Company received an export order of USD 59.9 Million (approximately Rs.310 crores) from one of its overseas customer for supply of microwave sub-systems.
Sensex down on global cues, RIL falls ahead of results
9:30 am Markets have fallen in line with the weak economic data after disappointing economic data out of the US and continuing concerns over the eurozone debt crisis. Sensex is trading down 25 points to 17478 points while the Nifty is down 6 points to 5326. RIL is down 0.8 percent to Rs 735 per share ahead of its results.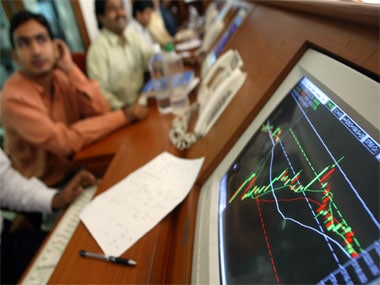 Escorts is up almost 2 percent after news emerged that Escorts promoters have increased stake fearing a takeover threat. The promoters have acquired 5 percent stake in last 2-3 weeks in a bid to prevent possible hostile takeover threat. The stake was acquired via open market purchases by the promoters, according to CNBC TV-18.
Reliance Inds has fallen by almost a percent ahead of its results as the street expects the company to report lower profits. The stock has been downgraded due to concerns about its out put from the KG-D6 basin, fall in profits, lower refining margins and usability of its cash.
Another area to focus on will be the financial services after several banks cut rates post RBI's 50 basis point repo rate cut.The Bank of Maharashtra cut base rate by 10 basis points to 10.50 percent with effect from May 1, while ICICI Bank, PNB and IDBI cut rates by 25 basis points.
The rupee woes continue as it has slipped to a three month low on Thursday to 52.14 on the back of global cues and sell off by foreign funds.
Published Date: Apr 20, 2012 09:37 AM | Updated Date: Dec 20, 2014 17:25 PM