Meri Pyaari Bindu trailer chapter 3: Parineeti, Ayushmann make you yearn for instant jamming sessions
Chapter 4 of the trailer of Akshay Roy's upcoming romantic comedy Meri Pyaari Bindu is the most interestingly titled chapter yet - Kalkatte Ki Madonna.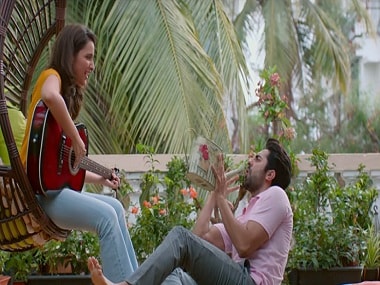 Both Kolkata and Madonna play a crucial part in the narrative of this one. Both Ayushmann Khurrana and Parineeti Chopra's characters hail from Kolkata and hence have embarrassing daak naam (nicknames) permanently attached to their identification. Khurrana's character Abhimnayu is seen cutely consoling Chopra's character Bindu by convincing her that his nickname is more embarrassing than hers.
Madonna assumes significance in the narrative as Bindu is an aspiring singer. Abhimanyu, who has little inclination towards music, nonetheless supports Bindu with his 'additional vocals'. Since this chapter revolves around Bindu's musical aspirations, there are more number of cassettes that flash across the screen as compared to the previous chapters or teasers.
These cassettes provide the old world charm quotient that is prevalent in the previous chapters as well. Add to that, the classic disco song 'Disco 82' from Ravi Tandon's 1982 film Khud-Daar, and you have a nostalgia ride inviting you to hop on.
There are references to classic films as well. As Abhimanyu narrates, Bindu's aspirations stem from Vijay Anand's 1965 romantic drama Guide. She was inspired by Lata Mangeshkar's soulful vocals and Waheeda Rehman's graceful portrayal and decided to become a singer then.
There is also a reference to the producer of the film, Aditya Chopra's directorial debut, the 1995 romantic comedy Dilwale Dulhania Le Jayenge. In the final seconds of the chapter, Bindu is seen singing 'Zara Sa Jhoom Lu Main' while Abhimanyu makes fun of her indulgence and pokes fun at the lyrics of the song.
Meri Pyaari Bindu is co-produced by Maneesh Sharma and Aditya Chopra's Yash Raj Films. It is slated to release on 12 May. Chapter 4 of the love story of Abhimanyu and Bindu will be launched on 6 April.
Published Date: Apr 05, 2017 17:04 PM | Updated Date: Apr 05, 2017 17:05 PM