Kamal Haasan-Gautami split: Will this mark the end of their creative collaboration as well?
In a development that shocked their many fans, actress-costume designer Gautami Tadimalla announced on Tuesday, 1 November, that she and Kamal Haasan, her partner of 13 years, were separating.
In a long and heartfelt post on her blog, Gautami wrote: "It is heartbreaking for me to have to say today that Mr Haasan and I are no longer together. After almost 13 years together, it has been one of the most devastating decisions that I have ever had to make in my life. It is never easy for anyone in a committed relationship to realise that their paths have irreversibly diverged and that the only choices in front of them are to either compromise with their dreams for life or to accept the truth of their solitude and move ahead. It has taken me a very long time, a couple of years at the very least, to accept this heartbreaking truth and come to this decision."
Read the full text of Gautami's blog post here.
Gautami also added: "It is no secret that I have always been a fan of Mr Haasan's since before I came to the film industry and I continue to admire and cheer on his monumental talent and achievements. I have stood by him through all his challenges and they have been precious moments for me. I have also learned a great deal from working with him as costume designer on his films and I'm proud that I was able to do justice to his creative vision in those films. Along with all of his accomplishments to date, I know that there is much more to come from him for his audience and I look forward to applauding those successes."
Indeed, Gautami and Kamal Haasan weren't just partners in life, they were also creative collaborators in cinema.
Their creative partnership dates back to the late '80s and early '90s, when Gautami appeared in a few films opposite Kamal Haasan. These films were hugely successful, and also earned critical acclaim.
Their very first onscreen pairing was in the 1989 hit Apoorva Sagodharargal. It was dubbed in Hindi as Appu Raja and Gautami was cast opposite Kamal as the protagonist Raja's love interest.
Then, in 1992, Gautami and Kamal teamed up again, this time for the landmark Thevar Magan. This was also remade in Hindi as the Anil Kapoor-Tabu-Pooja Batra starrer Viraasat. Gautami played the role Pooja Batra did in the Hindi version — that of Kamal's girlfriend, who he has to break up with to marry another woman from his village (a character played by Revathi).
The praise heaped on Thevar Magan was tremendous; it was India's entry for the Best Foreign language Film at the 65th Academy Awards. It also went on to win no fewer than five National Awards, including a Best Supporting Actress nod for Revathi.
If Revathi walked away with the honours in Thevar Magan, Gautami took centrestage opposite Kamal in 1994's Nammavar. Another National Award-winning film, Nammavar was the mature love story between a college professor (Gautami) and the institute's new vice-principal (Haasan). The couple must deal with a cancer diagnosis and the bratty, rich student(s) of the college. (Years later, Gautami herself would be battling breast cancer in real life, and is now an inspiring voice in the survivor community.)
Yet another acclaimed cinematic outing for Gautami and Kamal was the 1995 cop drama Kuruthipunal, a remake of Govind Nihalani's Drohkaal. Again, the film was India's official selection for the 68th Academy Awards' Best Foreign Language Film.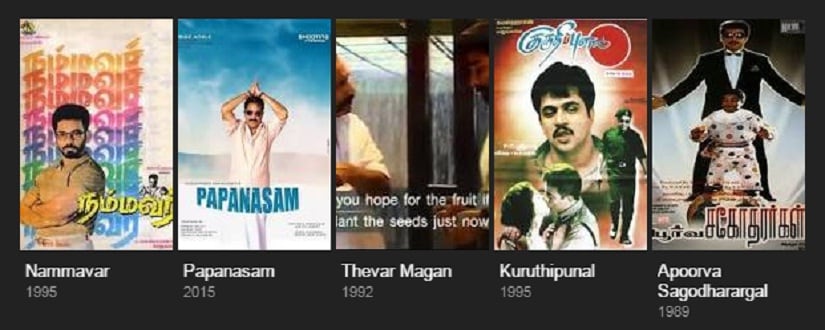 After these early hits, there was a pause on Gautami and Kamal's co-starring ventures. In the late '90s, Gautami was married to Sandeep Bhatia; the marriage ended very quickly, but not before they had a daughter named Subbalakshmi. As Gautami grappled with being a single mother and her cancer diagnosis — experiences that she's written extensively about on her blog, and spoken of — she wasn't seen on the big screen.
Her film Sasanam, featuring Arvind Swamy, released in 2006, but it was shot in 1996.
It was in 2003 that Gautami met Kamal again. She has said in an interview that meeting him so many years after Kuruthipunal, she was struck anew by her former co-star's "what you see is what you get" quality. "With many people, they're something else on the inside, and they project something entirely different on the outside. He (Kamal) is never fake," Gautami has said.
By this time, the superstar too had split from his second wife Sarika (with whom Kamal has two daughters — Shruti and Akshara Haasan). Gautami and Kamal struck up a partnership — this time a personal one — by 2005.
It was at this time, that Gautami's career had a second innings of sorts. She moved to costume design with Kamal's 2008 film Dasavatharam. She would go on to style several of his other films, including Vishwaroopam (2013) and Uttama Villain (2015).
It was also with Kamal that Gautami marked another return to the big screen (she was facing the camera after 19 years) — with 2015's Papanasanam. This remake of Mohanlal's hit Drishyam had Kamal and Gautami as a middle-aged couple who must protect their family when their older daughter's harasser (a top cop's son) is accidentally killed in their home.
Off camera, Gautami was continuing her styling work on Kamal's films — the most recent one being Sabaash Naidu. It is this film that is speculated to have given rise to some tensions between the couple: news reports of a heated argument between Gautami and Shruti Haasan (who is acting alongside her father in Sabaash Naidu) over the latter's costumes were doing the rounds for a while, although both parties denied that the disagreement ever got out of hand.
Whether or not Gautami will continue to collaborate with Kamal Haasan on his projects in any capacity is anybody's guess at the moment — Gautami herself has been silent on that point, as on the status of Sabaash Naidu.
But one thing at least seems certain: that the professional respect the duo shares will not be marred by the end of their personal relationship.
Published Date: Nov 02, 2016 12:16 PM | Updated Date: Nov 02, 2016 12:16 PM