From Rahasya to Gour Hari Dastaan: The most underrated Bollywood movies of 2015
Bollywood churns out more than 100 films every year, but most of them turn out to be terrible clichés as well as box office turkeys. In fact it is surprising that the industry sustains its business after such a high rate of failure.
Nevertheless, let's come to the few successful films this year. We have Bajrangi Bhaijaan, Bajirao Mastani, Piku and Tanu Weds Manu Returns that won over both the critics and the audience. There were films like Dilwale, Prem Ratan Dhan Payo and ABCD2, which did not win over the critics but made the big bucks anyway.
There were also films like Masaan, Titli and Talvar that won high critical acclaim and awards. But there still remains a few films that got completely ignored by both sections, mainly due to lack of promotions and big stars, although they were reasonably interesting projects.
So, here are five underrated and ignored Bollywood films od 2-15. They are not necessarily masterpieces and will not satisfy everyone, but are still interesting attempts that one can watch at least once:
Rahasya, the other Talvar
Rahasya was a other film based on the Noida Double Murder Case. But director Manish Gupta fictionalised it by setting it in Mumbai and offering a solution at the end. Through these two films, both starring the ever reliable K K Menon, he has shown that he can weave gritty thrillers that keep people guessing without insulting their intelligence. Sadly, he does not have strong backers in the industry. He makes films with a very low budget and they are mostly never promoted.
Meeruthiya Gangster: Gangs of Wasseypur in Meerut
It is a film directed by Zeishan Quadri, 'Definite' from Gangs of Wasseypur, who, in case you did not know, was also the writer of GoW. This time he is telling the stories of similarly lawless youth from Meerut. In the absence of Kashyap, the film loses the creative ambitions, technical finesse and cutting edge music of GoW. But it is still an entertaining, one time watch due to Quardi's sharp and hilarious dialogues, black humour and some witty situations. Although, at times one wonders why such good for nothing, jobless, wannabe criminals have such hot girlfriends? Nevertheless, feminism was not exactly the point here.
Kaun Kitne Pani Main: Water wars
When did you last see Odisha in a Bollywood film? If Bollywood has to go somewhere else beyond Mumbai and Punjab, it generally goes to Switzerland. That is why director Neel Madhab Panda deserves credit for telling a story in a draught affected village, where people use water as payments. However it is not a dark and depressing story but more of an enjoyable sociopolitical satire pulled off competently by a good ensemble cast led by Saurabh Shukla, Radhika Apte and Kunal Kapoor.
Main and Charles: A rare crime biopic
Hollywood and many other countries regularly churn out excellent crime movies because there are so many interesting aspects to explore. It was nice to see a Charles Shobhraj biopic, which shows more of his major escapades and even delivers some twists to the people who are not aware of his biography. Prawal Raman makes an adequate film that is fast paced and sleek. But he misses a chance by not exploring the psyche and motives of such an intriguing criminal mastermind. Still, it deserves a watch because of the performance of Randeep Hooda, one of the most underrated actors in Bollywood.
Gour Hari Dastaan: Important Stories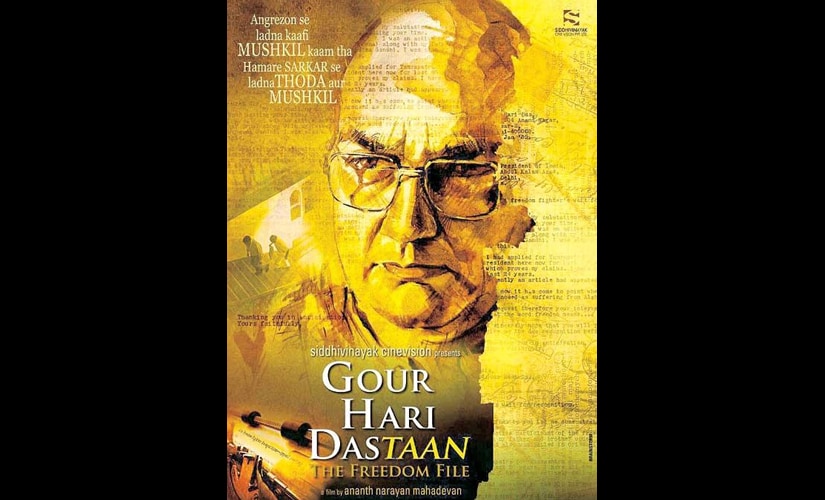 Gour Hari Dastaan by Anant Mahadevan is a real life story of a freedom fighter who struggles to get his pension. It is a depressing story but offers food for thought regarding thee current state of our society and the very nature of freedom. But the writing was a bit sluggish although veteran friends Vinay Latham and Ranveer Shorey pull off their roles with gusto.
Published Date: Jan 01, 2016 16:53 PM | Updated Date: Jan 01, 2016 16:53 PM