Washington: In the current doom and gloom around India's economic scenario, even the good tends to get lost. The increasing presence of Indian companies in the United States and the role they play is a story largely unappreciated because it is untold.
And no, it is not only the information technology companies although IT was the banner under which Indian companies initially made their presence felt. But over the past 15 years Indian enterprises in a variety of sectors, ranging from pharmaceuticals to health care and manufacturing, have planted their feet in 40 of the 50 states in the US. They have invested more than $820 million since 2005, done 72 mergers and acquisitions, saving and sustaining thousands of American jobs. They engage with the local economy and quietly do their bit.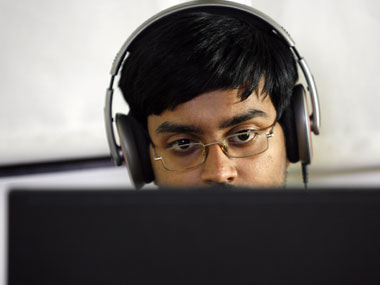 But the dominant feeling about Indian companies remains tainted by one word - outsourcing. That the US is struggling with a recessionary economy and high unemployment with politicians desperate to find something/someone to blame doesn't help. It is America's "foreign hand" syndrome. Add to it the current anti-immigrant sentiment, the new state laws against illegal immigrants and the flap over H1-B visas for Indian IT companies and you have a narrative that suits election-year politics of us and them.
But facts are in favour of Indian companies and the growing Indo-US relationship. A survey of 36 Indian companies in the US shows they employ 52,000 workers and a majority bolstered their presence since 2005 and despite the economic downturn. In some sectors such as travel and hospitality, 99 percent of the workers employed are local. For pharmaceuticals the figure is 83 percent while for manufacturing, 91 percent.
Even though the local employment figure for the IT industry - the big "bad" guy of outsourcing - is 39 percent, it translates to 280,000 direct and indirect jobs which are not sniff-worthy in a weak economic environment.
Last week, the Confederation of Indian Industries (CII) released a report on Capitol Hill about the impressive presence of Indian companies here. More than 20 US Congressmen and senators showed up, made gratifying speeches and repeated their commitment to the Indo-US partnership. Hopefully they will tell others not to fan the flames against foreign workers. Ambassador Nirupama Rao couldn't have been more direct in stressing the need to "acknowledge the role of Indian companies in times of economic turbulence."
But Indian companies also need to think hard why their story is getting lost. Is it because they are unable to clearly articulate, devise and send the message that they are job creators, not job stealers? If they are indeed taking "Corporate Social Responsibility" initiatives, why aren't local American newspapers writing about them? I can take a guess - it is because most of the CEOs don't talk and are typically diffident/arrogant (my work speaks for myself)/unimaginative and unresponsive.
In the age of YouTube and social media, there is no excuse for a good message not going "viral." You may not even need a traditional public relations firm for the job if you have a few bright young things in the office not weighed down by hierarchy and awe of superiors.
There are many good examples to pick from. Working in Nevada, HCL improved the state's child support payment system, which was drowning in thousands of cash payments and processing of 450,000 documents every year. A great story about how an Indian company helped go after "dead beat dads" or made a difference in the lives of young children. Infotech developed a compact ECG monitoring system - the size of a pen drive - to measure heart rates at home and for doctors to check a patient remotely. Cheap and typically "jugaadoo," it is another great story but you won't read about it except in the barest of detail in the NASSCOM report.
Then there are other issues, which few Americans know or acknowledge - that Indian IT companies pay over a $1 billion annually in social security taxes in the US. Between 2006 and 2011, IT employees (yes, the H1-B and L-1 visa holders) and employers (Wipro, TCS, Infosys and others) paid a whopping $15 billion to the US Treasury in payroll, social security and income tax. It is not just feeding off a system but also paying into it.
But when the H1-B brigade retires back in India, it won't qualify for an American social security cheque. Why? Here's the catch: the bulk of Indian workers come on a five-year H1-B visa but to get social security benefits, they should have worked here for 10 years or 40 quarters. But H1-B is granted only for five and the law says they must pay social security. The US Treasury benefits from the anomaly.
There would be no problem if India and the US had a "totalization agreement" which would avoid the unfairness. But whenever the Indian government has tried to push for an agreement, the US has simply stalled. The reason given is a bit of a red herring. Americans say they can't send social security cheques to Indians because the Indian social security system is not in compliance with theirs. Besides, whatever goes in the name of social security in India does not apply universally to the entire workforce. Essentially, because the Indian system doesn't work efficiently, the American can't.
The fact that the Indian pension/provident funds are very similar and the government has schemes to give protection to the unorganised labor force, however spotty and inefficient, is simply ignored. Incidentally, India has signed such agreements with Germany and Switzerland, two countries surely not slack on rules.
Maybe Washington has no desire to pay social security to thousands of Indian workers when they turn 65 because it means an annual outflow of $1billion. But visa fees on H1-Bs keep climbing because the US Congress knows there is a long line of Indian workers waiting to come here.
Published Date: Apr 30, 2012 09:16 AM | Updated Date: Dec 21, 2014 04:48 AM